HOME
keyboard_arrow_right
最新消息
keyboard_arrow_right
Contest
keyboard_arrow_right
2022 Meme Contest on Pangolin Conservation
2022/02/22
2022 Meme Contest on Pangolin Conservation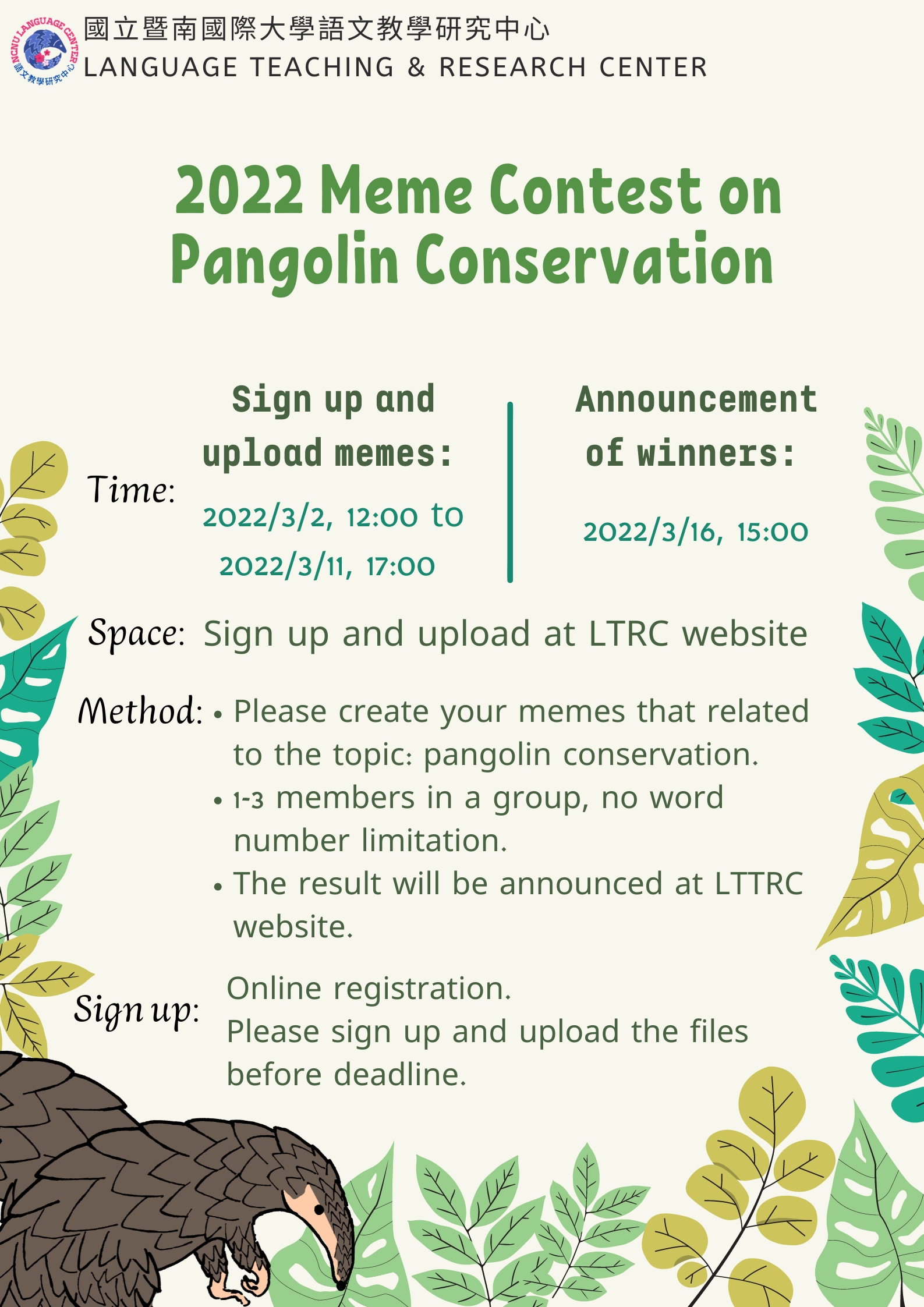 2022 Meme Contest on Pangolin Conservation
Sign up and upload memes: 2022/3/2, 12:00 to 2022/3/11, 17:00 at the LTRC website
Announcement of winners: 2022/3/16, 15:00 at LTRC website
*Registration: click here.
*Upload Space: Particular email ( pangolin.languagecenter@gmail.com )
l Please create your memes that related to the topic: Pangolin conservation.
l 1-3 members in a group, no word number limitation.
l Evaluation: language use: 50%, creativity: 50%.
l Prize:
The Excellence Award: 3, each is awarded NT1500 gift certificate and a certificate of merit
The Honorable Mention Award: 5, each is awarded NT800 gift certificate and a certificate of merit
Rules for uploading:
Please sign up in the registration system on the official website first, and send your works to the Particular mailbox

Mail's Subject: 2022 Meme Contest on Pangolin Conservation

Mail's Contents:

Department, Grade, team members' names, and student number.

F

or freshmen and sophomores: please note your English class name and Instructor.

EX: Department of Economics, Second grade Economic English class (2), Instructor: Mr. Steve, members' name: Lin Xiaomei (109000001)

* Please make sure the contents are all correct for the adjudicator.
Note: Contestants that get into the final round can receive a set of postcards.