HOME
keyboard_arrow_right
最新消息
keyboard_arrow_right
Activity
keyboard_arrow_right
1102-Semester EMI TA Training Workshop (l)
2022/02/25
1102-Semester EMI TA Training Workshop (l)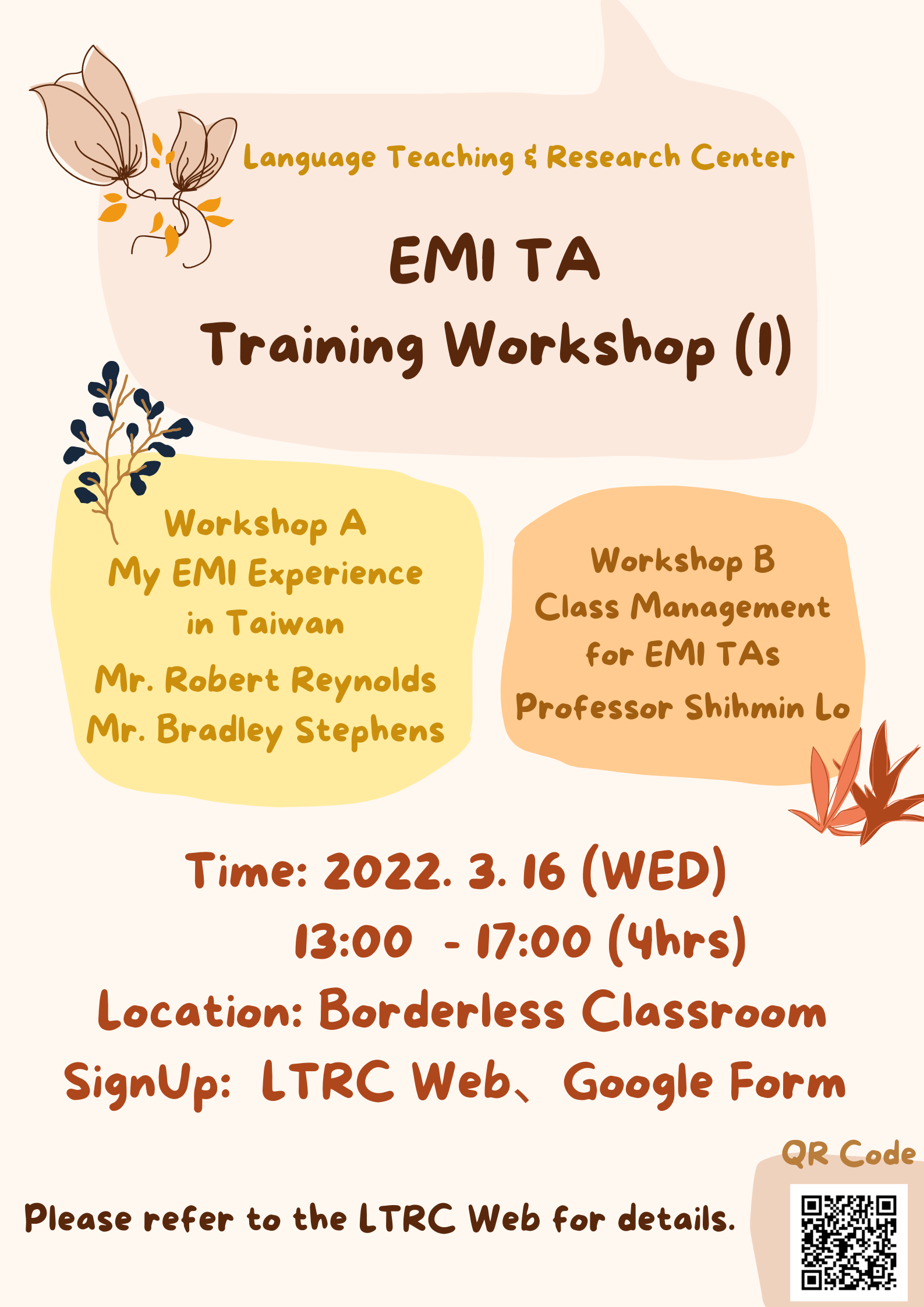 EMI TA Training Workshop (I)
1. Organizer: Language Teaching and Research Center, Office of International and Cross-Strait Affairs, and Center of Teaching and Learning Development
2. Target audience: EMI teachers, TAs who assist with EMI courses, students who have at least English proficiency of level B2 and are interested in getting EMI TA training, and teachers who plan to offer EMI courses in the future.
3. Goal: This four-hour workshop aims to achieve two goals. First, EMI TAs in training will have a better understanding of what the EMI experience is from a learner's point view and a teacher's point view so that they can better assist EMI teachers and students. The second goal is to walk EMI TAs in training through the nitty-gritty of managing a class so that they can help facilitate an effective and all-encompassing EMI learning experience.
4. Time: 13:00-17:00, Wednesday, March 16.
5. Venue: Borderless Classroom (2nd Floor of the library)
6. Speaker: Professor Robert Reynolds, Department of Foreign Languages and Literature
Professor Shihmin Lo, Department of International Business Studies
Mr. Bradley Stephens, Language Teaching and Research Center
7. Other details you need to know:
- The working language of this workshop is English.
- Masks are mandatory.
- In case of stricter Covid measures, this workshop may be held online and the link
will be sent to the email address you provide.
8. How to register for the workshop:
- For EMI teachers, TAs, whoever is interested in EMI: CLICK HERE
- Regular Student: CLICK HERE
- Registration deadline:15:00, March 11, 2022
3/16

(Wednesday)

12:45-13:05

Registration

Ms. Chang, Chia-wen, LTRC

13:05-13:10

Opening remarks

Dr. Luo, Lyih-Peir, Director of LTRC

Dr. Julie Shiu, Head of Pedagogy, LTRC

13:10-15:00

My EMI Experience in Taiwan

Speakers:

Mr. Bradley Stephens (LTRC)

Professor Robert Reynolds, Department of Foreign Languages and Literature

15:00-15:10-

Break

15:10-17:00

Class Management for EMI TA

Speaker:

Professor Shihmin Lo, Department of International Business Studies