HOME
keyboard_arrow_right
最新消息
keyboard_arrow_right
Activity
keyboard_arrow_right
1102-Semester EMI TA Training Workshop (ll) - English Presentation Skills
2022/03/04
1102-Semester EMI TA Training Workshop (ll) - English Presentation Skills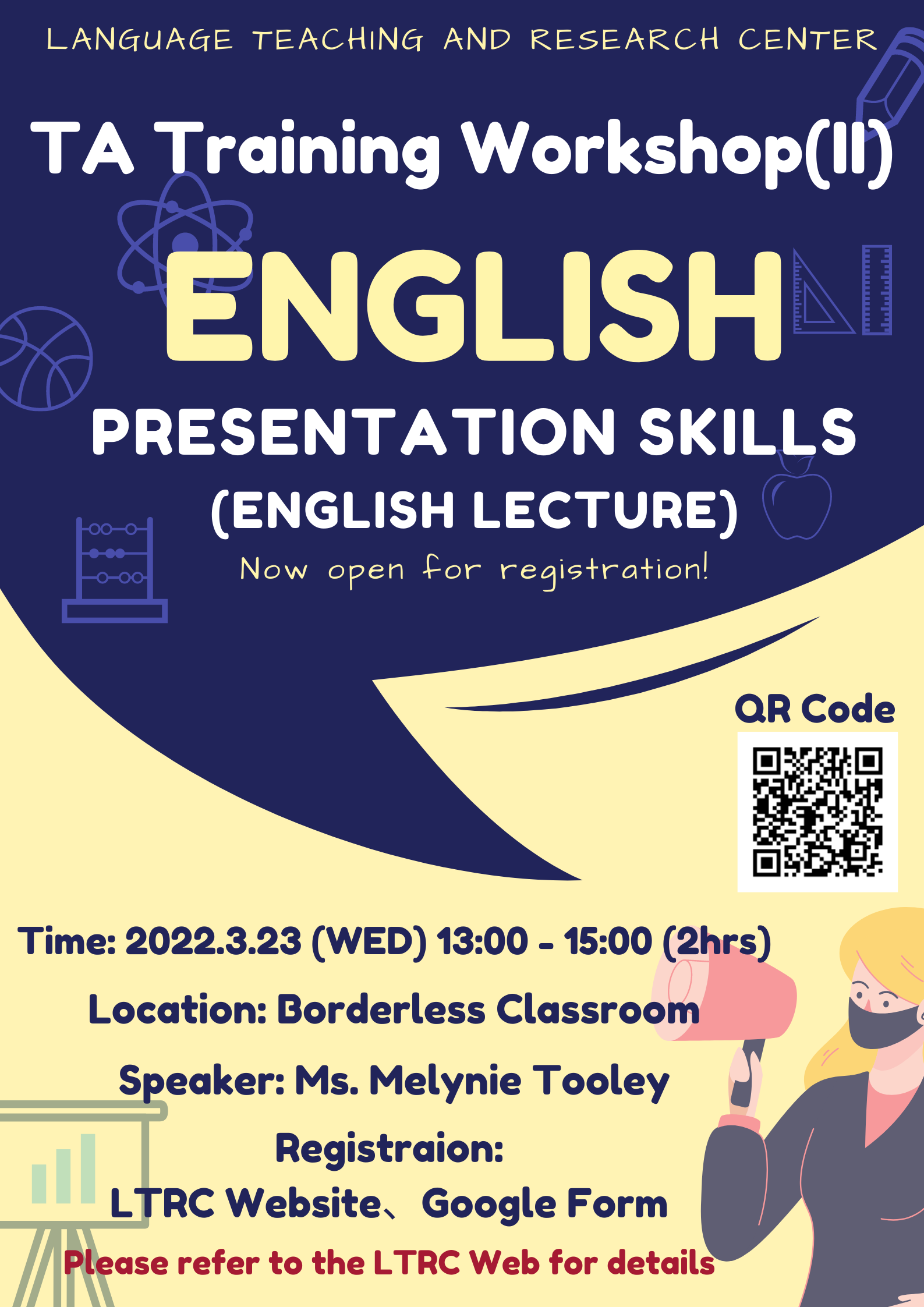 EMI TA Training Workshop (II): English Presentation Skills
1. Organizer: Language Teaching and Research Center, Office of International and Cross-Strait Affairs, and Center of Teaching and Learning Development
2. Target participants: EMI teachers, TAs who assist with EMI courses, students interested in getting EMI TA training, and teachers who plan to offer EMI courses in the future.
3. Goal: PowerPoint presentation is not only a very useful teaching tool, particularly
for EMI teachers, but a successful presentation also makes it easier for
students to follow and understand the content, especially for students who
find English instruction challenging. Therefore, this workshop aims to
familiarize EMI TAs in training as well as EMI teachers and students with
the essentials of a good presentation and the fundamental language and
communication skills necessary to deliver an English presentation in a clear,
organized and audience-friendly manner.
4. Time: 13:00-15:00, Wednesday, March 23.
5. Venue: Borderless Classroom (2nd Floor of the library)
6. Speaker: Ms. Melynie Tooley, Department of Foreign Languages and Literature
7. Other details you need to know:
- The working language is English.
- Two hours of faculty professional development will be awarded for attendees.
- Masks are mandatory.
- In case of stricter Covid measures, this workshop will be held online and the link
will be sent to the email addresses you have provided.
8. How to register for the workshop:
- For EMI teachers, TAs, whoever is interested in EMI: CLICK HERE
- Regular Student: CLICK HERE
- Registration deadline:17:00, March 18, 2022
9. Program
3/23

(Wednesday)

12:45-13:00

Registration

Ms. Chang, Chia-wen, LTRC

13:00-13:05

Opening remarks

Dr. Luo, Lyih-Peir, Director of LTRC

Dr. Julie Shiu, Head of Pedagogy, LTRC

13:05-15:00

English Presentation Skills

Speaker:

Ms. Melynie Tooley, Department of Foreign Languages and Literature