HOME
keyboard_arrow_right
最新消息
keyboard_arrow_right
Activity
keyboard_arrow_right
【Lecture】Discussion Strategies and Giving Feedback in EMI Courses
2022/03/30
【Lecture】Discussion Strategies and Giving Feedback in EMI Courses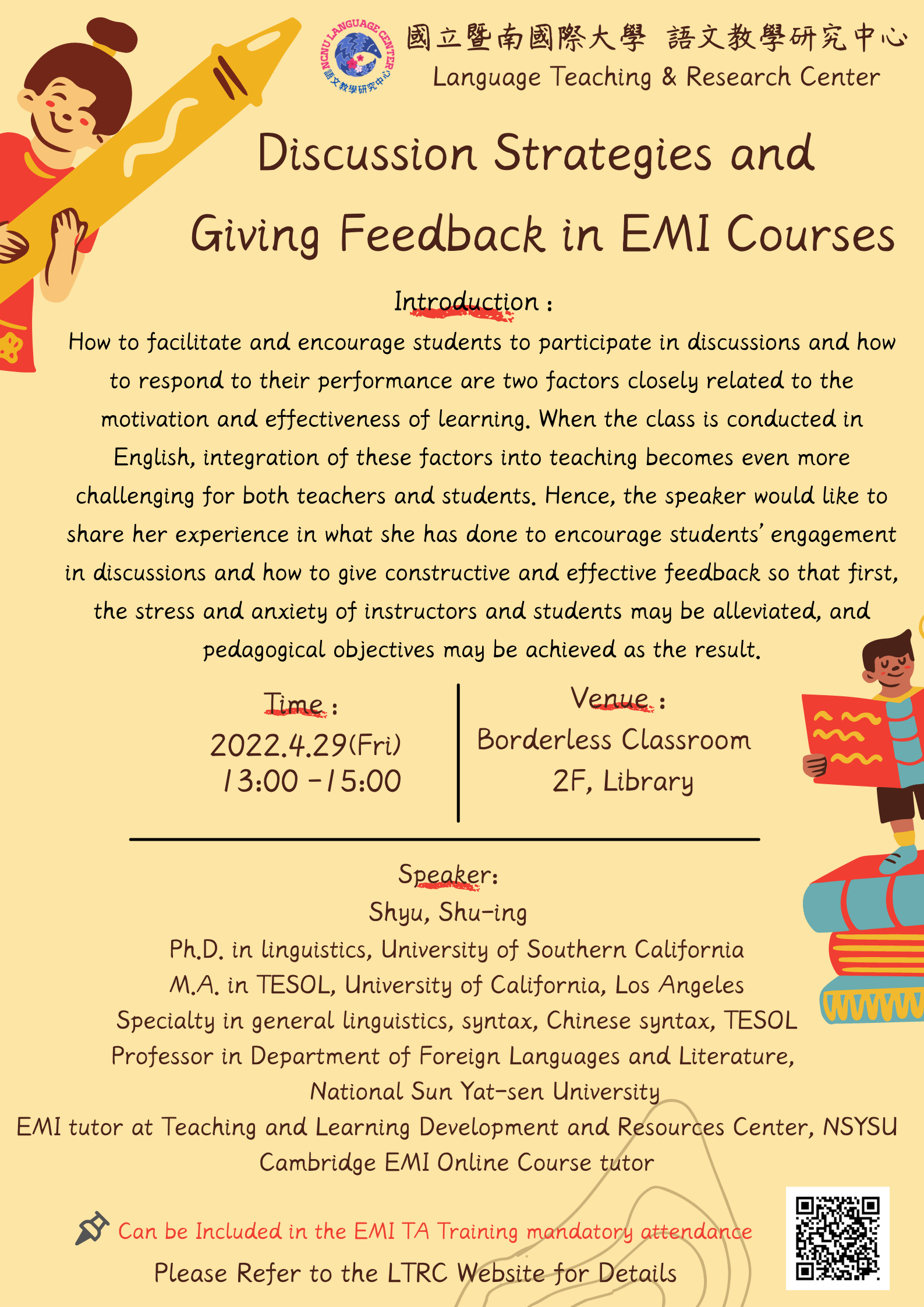 Discussion Strategies and Giving Feedback in EMI Courses
1. Organizer: Language Teaching and Research Center
2. Target audience:
EMI teachers, TAs who assist with EMI courses, students who have at least English proficiency of level B2 and are interested in getting EMI TA training, and teachers who plan to offer EMI courses in the future.
3. Goal:
How to facilitate and encourage students to participate in discussions and how to respond to their performance are two factors closely related to the motivation and effectiveness of learning. When the class is conducted in English, integration of these factors into teaching becomes even more challenging for both teachers and students. Hence, the speaker would like to share her experience in what she has done to encourage students' engagement in discussions and how to give constructive and effective feedback so that first, the stress and anxiety of instructors and students may be alleviated, and pedagogical objectives may be achieved as the result.
4. Time: 2022.4.29 (Fri) 13:00-15:00
5. Venue: Borderless Classroom (2nd Floor of the library)
6. Speaker: Shyu, Shu-ing
- Ph.D. in linguistics, University of Southern California
- M.A. in TESOL, University of California, Los Angeles
- Specialty in general linguistics, syntax, Chinese syntax, TESOL
- Professor in Department of Foreign Languages and Literature, National Sun Yat-sen University
- EMI tutor at Teaching and Learning Development and Resources Center, NSYSU
- Cambridge EMI Online Course tutor
7. How to register for the workshop: Click Here.
*If you have not yet registered: Click here to create an account.